Year 1
| | | |
| --- | --- | --- |
| Miss Sheehan - Class Teacher | Miss Marshall - Teaching Assistant | |
Welcome to Year 1
Please read the Year 1 Welcome document for information on our class routines.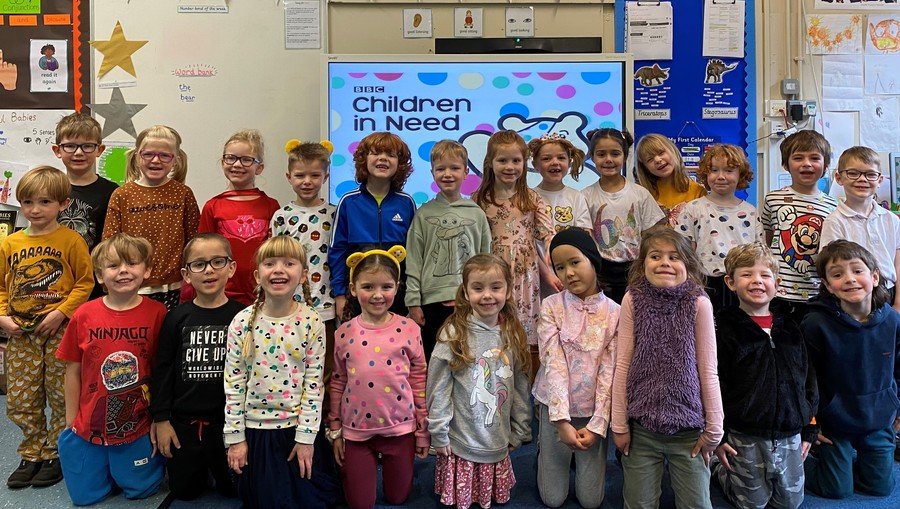 Important Information
Year 1 swim on Wednesdays. Half the class swim each half term, you will be notified by text when it is your child's half term. Children will need a swimming kit brought into school on this day.

PE is on a Thursday with Mr Brown. Children should come to school dressed in their PE kit.

Our library day is Monday, books can be returned and changed if brought in.

Reading books are changed on Mondays, Wednesdays and Fridays. Reading records need to be signed so that books can be changed.
Scroll Down to see what learning we have planned for the Year and to see our termly galleries and Y1 Twitter feed.
Don't forget to follow us on Twitter and download the School Jotter App to get important updates and class galleries.
What We Will Learn in Year One
Click the Image for a full year overview!
Click here for Y1 English writing outcomes
Click here for whole school Maths Non-Negotiables
Autumn Term
· In Maths we will start by looking at numbers up to 10. We will be counting forwards and backwards, finding one more/less, comparing numbers and ordering them. We then move on to addition and subtraction within 10, introducing symbols and number bonds, using lots of practical resources. Then we will learn to recognise and name basic 2D and 3D shapes and finally we will look at numbers up to 20.
· English – moving from word level to sentence level. Our main focus is finger spaces and getting our letter shapes correctly formed – lots of lovely handwriting practice! We are also spending time retelling familiar stories through pictures and words.
· Phonics – Phase 3 and 4 lots of blending and segmenting CCVC and CVCC words
· In Science we will be learning about animals including humans. We will identify and compare a variety of common animals including fish, birds, amphibians, reptiles and mammals. We will also learn about carnivores, omnivores and herbivores. In addition, we will learn about the basic parts of the human body and the five senses.
· History – We are researching Toys old and new. We will look at how toys have developed over the years including what they were made out of and different trends. We will interview our parents and grand parents to discover what were there favourite toys and we will even have a go at making some of our own toys.
. Geography - After half term we will be looking at what we can see around our school. We will be looking at the landscape and the buildings and how people interact with them.
· Our Enrichment topics for this term will be looking at 'nature' and 'Tales of Tod'.
Spring Term
· In Maths we will start with addition and subtraction within 20. We then move on to comparing and ordering numbers to 50 and counting in 2s and 5s. Finally, we will measure length, height, weight and volume.
· English – Time to get those full-stops and capital letters nailed!! We are doing lots of work this term on writing stamina so that we can write lots of lovely things next term!
· Phonics – Phase 5 More blending and segmenting and looking at alternative spellings, especially those tricky split digraphs.
· In Science we will learn to distinguish between an object and the material it is made from. We will identify and name everyday materials, including wood, plastic, glass, metal, water, and rock and describe their simple physical properties. This will involve simple tests and various experiments.
· In Geography we will be researching the seven continents of the world and their connecting oceans. Then we will focus on the UK as our island home.
. History - after the half term we will be looking at knights and castle life.
· Our Enrichment topics for this term are, to learn a new skill and STEM.
Summer Term
-In Maths we will start with multiplication and division. We will count in tens and make equal groups by sharing and grouping. We will also start doubling numbers. We then move on to number fractions, investigating halves and quarters. In geometry we will learn about position and direction and finally we will learn to measure money and time.
· English – we are now at text level. We are doing whole pieces of writing like diaries, letters, retelling stories, recounts and instructions. We expect that all our Year 1's will be able to write a short piece independently by the time they leave Year 1.
· Phonics – Repeat Phase 4 and 5 at super speed ready for the phonics screen in June.
· In Science we will be finding out about plants. We will learn to identify and name a variety of common wild and garden plants, including deciduous and evergreen trees. We will try to identify and describe the basic structure of a variety of common flowering plants, including trees. This will involve investigating plant parts carefully and observing seeds grow.
· Our History topic for the summer term is Honest John and the Industrial Revolution. In Geography, we will learn through fieldwork and observation all about our town of Todmorden. We will find out about some of the key human and physical features of the area as well as having the opportunity to draw maps and field sketches.
· Our Enrichment topics for this term are, map skills and French.
Don't miss our termly photo galleries below
Download the School Jotter App on Apple or Google.
Get newsletters, calendars and photo galleries direct to your phone.
<<<Play Store Link App Store Link>>>
Find Y1 on Twitter here. School's Twitter page is here.
Mrs Sutcliffe tweets about Maths here. Dr Ovenden tweets about reading here.
Our TOP recommendations for online resources to support learning are:
Letters and sounds DfE - This government backed website offers daily phonics sessions - something we do in school every day through Early Years and Key Stage 1.
https://play.numbots.com/ - Numbots is a fun way for children to practise their key maths skills - including counting, recognising quantities and early addition and subtraction facts. It's presented in a game style with levels to win - and your child can use reward "coins" to create and improve their robot avatar.
https://online.espresso.co.uk/espresso/login/Authn/UserPassword - We have student access to Discovery Education's Espresso site... there are lots of themed activities, fact files, online games and printable activities for students from Nursery to Year 6. Our school pupil log in was texted home on 27/04/20.
https://www.purplemash.com/sch/shade - There are countless games and activities linked to all parts of the curriculum on here (if you have lost your child's login then please get in contact and I will send their details over as soon as I can).
https://www.bbc.co.uk/bitesize/primary - The BBC have added lots of content over Easter to support Home Learning.
https://www.thenational.academy/ - Oak National Academy is a new collection of high-quality lessons and online resources. Backed by the Government, it has been created in response to the coronavirus lockdown. The online classroom offers free access to video lessons, quizzes and worksheets. All of the lessons are ordered so your child can learn along a clear plan. There will be new lessons and resources each week.
Here are some further links you could explore:
https://www.robinhoodmat.co.uk/learning-projects/ - These are FANTASTIC home learning packs. They are split into weeks and have lots of maths/reading/writing activities and open ended projects for Year 6 to get their teeth stuck into.
https://classroomsecrets.co.uk/free-home-learning-packs/ - There are a range of home learning packs for free on Classroom Secrets. We use Classroom Secrets in our Maths lessons so children will be familiar with the format (printing may be required).
https://www.twinkl.co.uk/resources/keystage2-ks2/ks2-class-management/school-closure-home-learning-classroom-management-key-stage-2-year-3-4-5-6 - Twinkl has released a range of free resources to support with school closures (printing may be required).
Art for Kids Hub - Another site we use in school. Links to Directed Drawing sessions. Pick carefully they cover a lot of skill range!
https://www.youtube.com/user/thebodycoach1?safe=true - Joe Wicks is releasing daily PE lessons (30 minutes) every weekday at 9am. The link attached will take you to his YouTube channel.
Knowlwood Road, Todmorden, Lancashire OL14 7PD
01706 812913
admin@shade.calderdale.sch.uk