Year 2
| | | |
| --- | --- | --- |
| Mrs Fogg - Classteacher | | Ms Douglas - Teaching Assistant |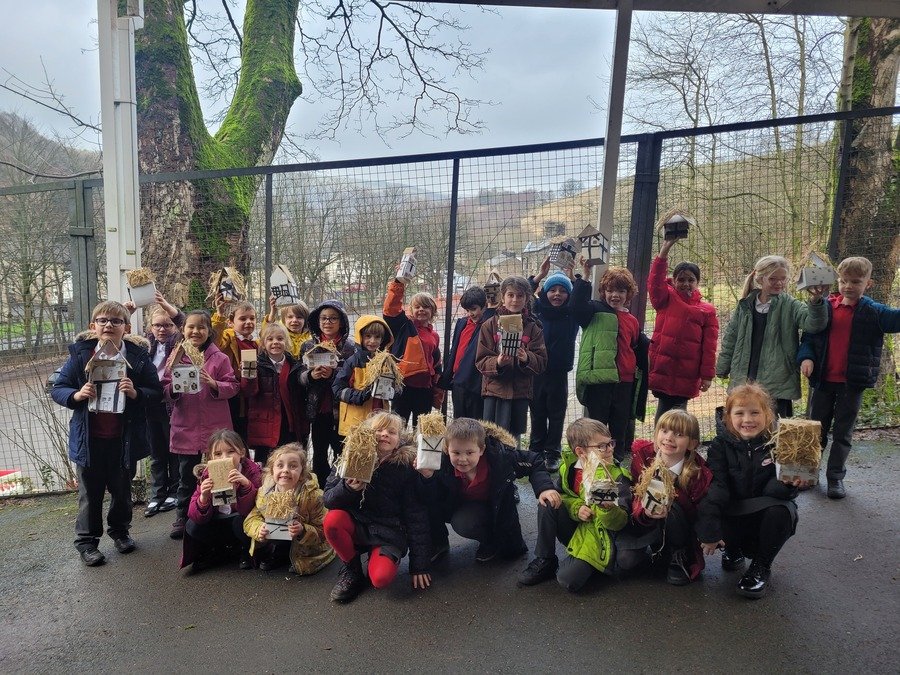 Important Information
Reading books changing day is on a Tuesday

Our class library day is Friday afternoon

Spelling homework will be set every Friday and due in the following Friday

Swimming is on a Monday afternoon

PE is either on a Friday afternoon.

We provide a morning snack for your child every day.
Scroll Down to see what learning we have planned for the Year and to see our termly galleries and Y2 Twitter feed.
Don't forget to follow us on Twitter and download the School Jotter App to get important updates and class galleries.
What We Will Learn in Year Two
Click the Image for a full year overview!
Click here for Y2 English writing outcomes
Click here for Y2 Maths Non-Negotiables
Autumn Term
In Maths we will lay the ground with place value and the four calculations. As Christmas approaches, we will begin to understand multiplication and division.
In English this half term we will look at a variety of texts from the author Emily Gravett. After the holidays we will be studying "10 things I can do to help my world"
In our enrichment time, we will be looking at patterns in the playground and creating art using patterns.
Our History and Geography topic is entitled "Mill Town." We will look at how Todmorden used to look and what it was like working in the mills. We will then compare it to life in Todmorden now with a focus on farms in the area. This will include a trip to Thornton Hall Farm.
For Science, we will be studying animals and humans. We will learn about different classifications of animals and their life cycles as well as looking at what a healthy diet is. We will also start our topic on plants, where we will learn about the life cycle of plants and how the seasons can affect their growth.
Spring Term
In Maths we are continuing with multiplication and division which will include learning our 2,5, and 10 times tables. We will then move onto weights and measurements.
In English we will start the term looking at Wild by Emily Hughes. After the half term we will read together "The Dark" by Lemmony Snickett.
In our enrichment time we will start off with looking at creating prints using carbon paper and then finish the term learning some basic French.
· Our History topic for this term is The Great Fire of London. We will look at how London looked back is 1666 and what happened over the 4 days that the fire took place. We will then research how this changed the way people lived.
In Science we will finish off our plants topic and then we will be focusing on materials and their properties. Using observations, surveys and experiments we will begin to explain why materials are suited to their purpose.
Don't miss our termly photo galleries below
Download the School Jotter App on Apple or Google.
Get newsletters, calendars and photo galleries direct to your phone.
<<<Play Store Link App Store Link>>>
Find Y2 on Twitter here. School's Twitter page is here.
Mrs Sutcliffe tweets about Maths here. Dr Ovenden tweets about reading here.
Our TOP recommendations for online resources to support learning are:
https://ttrockstars.com/ - PLEASE encourage children to work on their time tables. They are crucial in the maths curriculum (if you have lost your child's login then please get in contact and I will send their details over as soon as I can).
https://www.purplemash.com/sch/shade - There are countless games and activities linked to all parts of the curriculum on here (if you have lost your child's login then please get in contact and I will send their details over as soon as I can).
https://online.espresso.co.uk/espresso/login/Authn/UserPassword - We have student access to Discovery Education's Espresso site... there are lots of themed activities, fact files, online games and printable activities for students from Nursery to Year 6. Our school pupil log in was texted home on 27/04/20.
https://www.bbc.co.uk/bitesize/primary .
Knowlwood Road, Todmorden, Lancashire OL14 7PD
01706 812913
admin@shade.calderdale.sch.uk