INTERNET SAFETY
Useful factsheet for keeping your child safe on You Tube YouTube_safety_factsheet.doc
Ensuring every member of our community is e-safe is important to us. No-one is too young (or too old) to learn about e-safety.
In school our children are taught about e-safety as part of their IT and PSHCE lessons. Please reinforce these basic messages of safety at home.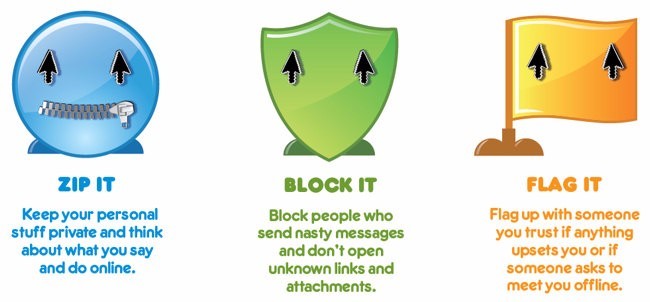 Scroll down for even more information and links to help you keep your family e-safe.
When we hear about new dangers for our pupils on the internet - we post about them here.
The CEOP ThinkUKnow service has produced a guide to help parents understand why live-streaming is so popular, and how to keep children safe.
Live Streaming Online Safety guide:
https://www.thinkuknow.co.uk/parents/articles/live-streaming-responding-to-the-risks/
A dangerous game called The Blue Whale is played online and spreads through social media. Players are appointed a "master/teacher" and these "masters/teachers" challenge the players in stages, to tattoo a Blue Whale somewhere on the body, usually the arm or the leg. As the game goes on the players are encouraged to self-harm and the final challenge is to commit suicide. All these actions have to be filmed and shared via social media to the so called "master/teacher". The game is being played by children of all ages, some as young as primary age, but predominantly by teenagers.
'Live.ly' is an app being used by many children as it provides the opportunity to group chat. Whilst the app is only meant to be able to access contacts already on a child's phone, the opportunity for friends of friends to join groups has resulted in people unknown to the child being able to access a group. In Leeds this resulted in a man using this to expose himself and masturbate onscreen. This highlights the risk that an app such as this poses in terms of the potential for incidences such as this but also the risk of grooming and exploitation.
'Yellow' is essentially an online dating app for children which works similar to 'Tinder' the idea being that you can swipe through people and then choose someone to then meet up with. Clearly this again poses numerous risk factors for children.
The following advice is taken from the CEOP website. It's a good place to start. Also, check out Mrs Sutcliffe's guide for parents below and scroll to the foot of the page for some useful links..
Talk to your child about what they're up to online.
Watch Thinkuknow films and cartoons with your child.
Encourage your child to go online and explore!
Set boundaries in the online world just as you would in the real world.
Keep all equipment that connects to the internet in a family space.
Know what connects to the internet and how.
Use parental controls on devices that link to the internet, such as the TV, laptops, computers, games consoles and mobile phones