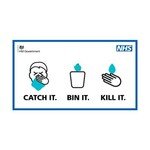 Dear Parents/Carers,
Coronavirus update
We're getting in touch to let you know how we are dealing with coronavirus and what we expect from all of you, to help make sure our school community keeps safe and calm.
We'd like to reassure you that at Shade Primary School we're taking all of the necessary steps to protect our community and are continuing to follow official guidance from the Government and Calderdale Local Authority.
What's the current situation?
· The school remains open – this is the current official guidance we've been given
· Pupils should attend school unless they feel unwell – if your child has any of the following symptoms, they should now remain at home for 14 days.
· a new, continuous cough and/or
· a high temperature
· Entire households should self-isolate for 14 days if one person has been showing symptoms of the coronavirus.
If your child is unwell, report this as you would normally by telephoning the school office.
Last night, the Government announced that we need to stop all 'non-essential' social contact with others. Therefore, the following will apply:
· Class assemblies with parents will cease until further notice.
· School trips are cancelled
We'll keep you up to date with any changes to the current situation and planned activities that are still going ahead, as quickly as we possibly can. However, this is proving extremely difficult as advice is changing by the day.
What we're doing to protect and support pupils and staff
· In school pupils to wash hands as they enter school, before and after each break, before lunch, after lunch and during the afternoon session
· If any pupil feels unwell whilst in school we will contact you on the numbers you have provided
· Regular cleaning of communal areas
What we need you to do
· If you've recently changed your contact details, please inform the school office as soon as possible
· Come and collect your child straight away, if we ask you to (we'll contact you if they become ill with either a high temperature or a new, continuous cough)
What happens if the school has to close?
We'll only close if we're either officially advised to do so, or we don't have enough staff to run the school safely. In either case, we will:
· Alert all parents/carers via e-mail, text and our website
· Work will be set for each year group
· When it is safe to reopen, we will alert parents/carers via e-mail, text and our website
· Work will only be set remotely if school closes.
Please be aware that teachers are currently in school teaching and ensuring that children maintain regular hygiene and keeping communal areas clean. Bearing in mind our teachers' workload, we are simply not in a position to set work remotely for children individually who are well enough to come to school but do not attend or for children who are not in school because they are ill or self-isolating.
However, a number of websites are offering free home learning resources. They are as follows:
www.twinkl.co.uk/offer and enter the code UKTWINKLHELPS https://www.robinhoodmat.co.uk/learning-projects/
Children in KS2and Year 2 have a login for Times Tables Rock Stars. Year 2 also have logins for numbots.
If your child needs theirs and they are not in school please contact school.
Your child can access Purple Mash – their login details will be sent home over the next few days.
https://www.purplemash.com/shade www.3plearning.com/distance-teaching www.ictgames.com/literacy www.letters-and-sounds.com www.topmarks.co.uk
BBC Bitesize have activities for KS 1 and 2
Number Jacks and PhonicsPlay.co.uk for Reception
All children have spelling lists to learn and times table and division facts to learn.
Reading and times table practise can never be underestimated!
Please keep in mind that we're only sending out this information to help the school community prepare. There are currently no plans to close.
Kind regards,
Mrs Clarkson