Year 4 Class Page
Meet the team:
| | |
| --- | --- |
| Mrs Fogg | Miss Marshall |
Please click the link below for our long term plan:
Important Information
Year 4 swim ONCE A FORTNIGHT ON A MONDAY. Children are either in group one or two Children will need a swimming kit brought into school on this day.
Children may bring in a snack to enjoy during morning playtime. This must be a piece of fresh fruit or veg.
Our library day is FRIDAY. This is when children may take out or return books from our fabulous and well stocked school library!

Children have the opportunity to change their home reading books throughout the week. Please make sure that your child is reading at home and write a comment in their reading records it is wonderful to read parent comments.

Children are welcome to bring in age-appropriate reading books from home if they wish to read during quiet reading.
Spelling homework goes home every Friday and is due in the following Friday for the weekly spelling quiz.
Once a half term, children will be given a learning log target. This is a great way for children to demonstrate their individual skills and interpretations on the task. Children will then share their learning logs with each other.
Monday 29th January 2018

Year 4 had an amazing visitor today. Hery Sheseta, an egyptian emabalmer. They all had to do a hard embalmers exam. Luckily they all passed and are now fully qulaified to mummify the next Pharaoh.

Thursday 25th January 2018

English - Edward Tulane has boarded the Quee Mary and is headed for England. Whilst on the ship, he meets two boys, Amos and Marting, who are about to change Edward's life.......... Year 4 have amazed Mrs Fogg with their acting skills as they turned part of the book into a playscript. Well done Year 4.
Thursday 21st December 2017 -
Well done Year 4 on a fantastic violin concert. They have worked tremendously hard on learning this new skill.
Thursday 14th December 2017 - Linking Schools project at Bankfield Museum.
Well done to Year 4 for having an amazing time meeting our Linking Schools partner, Beech Hill School. We have learnt so much about each other and have made some new friends. We can't wait to meet them again soon. Please have a look above at some photographs from the day.
Currently Year 4 are........
In English reading The Miraculous Journey of Edward Tulane. Whilst reading this book we will be writing stories, letters, poetry as well as discussing the characters and mapping the journey of Edward Tulane.
In Maths our current topic is area. After that we will be looking a decimal numbers. Please continue to practice times tables using times table rock stars.

In History We will be finishing off this half terms Egyptian theme by looking at why the Egyptians mummified their dead and how this was done. Stay tuned to the website and twitter to see pictures of some familiar looking trainee embalmers.
Science - For the last 2 weeks of this half term we will be come super scientists as we investigate the changing states of materials and their properties. We will also be looking at the water cycle.

Monday 20th November 2017 - Tree planting.
Year 4 got very wet and muddy as they helped Calderdale Council plant some trees.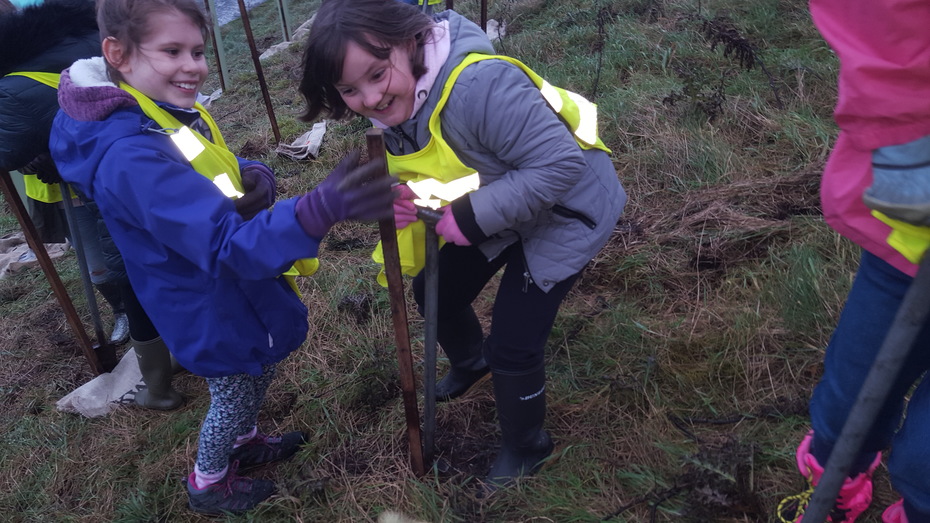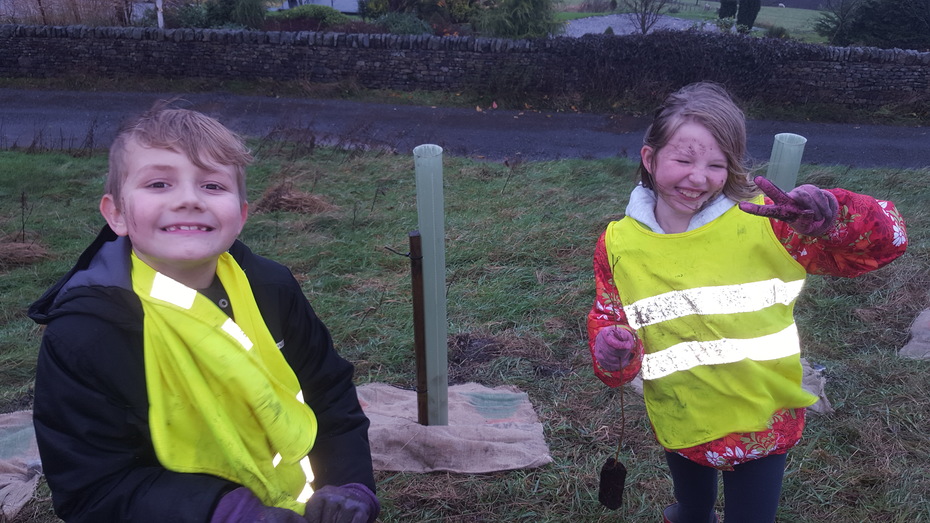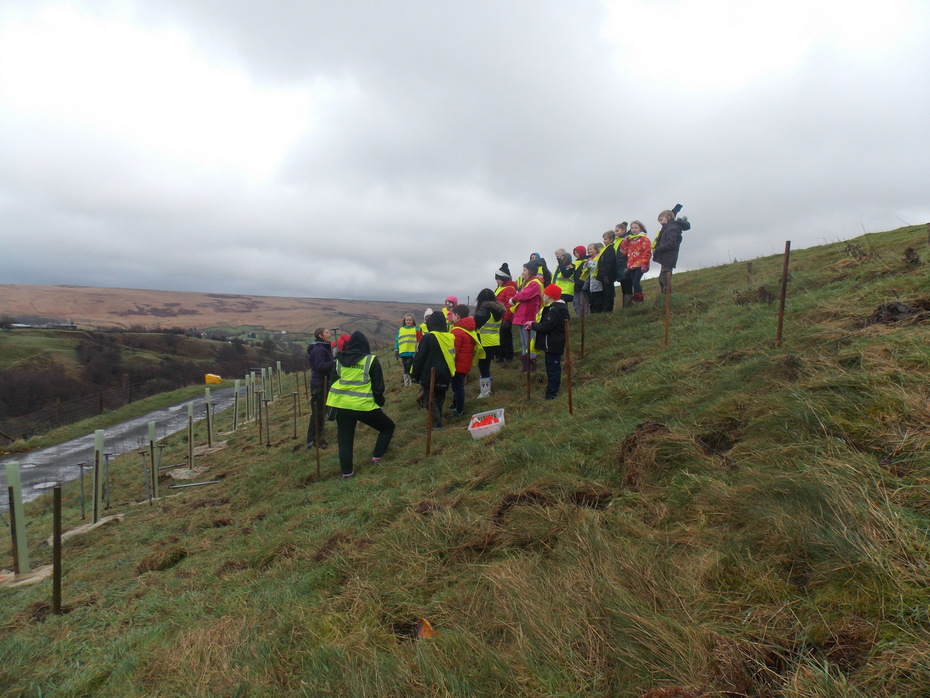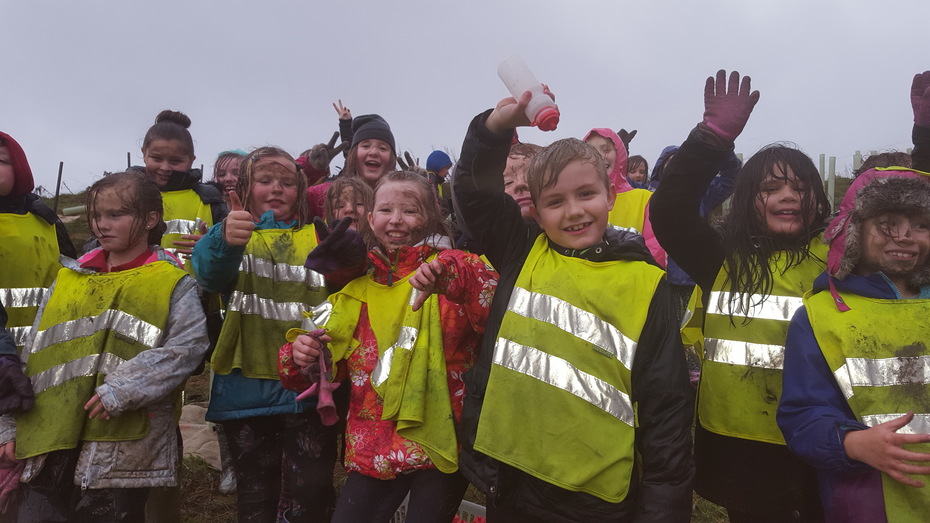 Tudor Banquet - Friday 28th October 2017
Well done to all the Year 4s on their amazing learning logs. We have learnt a lot about Tudor food and had an amazing Tudor Banquet to finish off the year.
Class assembly
Thank you to all the parents that came and supported the Year 4s in their class assembly. We had a fantastic time and thoroughly enjoyed ourselves.
Please click the link below to find out this terms swimming and violin times.
Swimming and violin timetabl;e.docx
Welcome to the new Year 4 class.
Information for new parents:
PE - Will take place this term on a Wednesday afternoon. Please have both indoor and outdoor kits in school.
Swimming - Will be on alternate monday afternoons. Groups to be finalised. Please make sure children have their kits in school on a monday.
Homework - Spellings homework will be given out every Friday and due in the following Friday. Please check for text to say when it has gone out.
If you need to speak to Mrs Fogg about anything please come and see her after school or before school from 8.15am. If it is something that requires a longer time please make an appointment.
Remember - To check the website regularly for updates on what your child has been up to.
Below are some useful sites to help children with their times tables knowledge:
http://www.topmarks.co.uk/maths-games/hit-the-button
http://www.topmarks.co.uk/Flash.aspx?f=loopcardsv6
Enter text...